About Us
Victoria Fish Bar is a Fish & Chips takeaway in Newark-on-Trent. Why don't you try our Fish For 2 Person or Nuggets?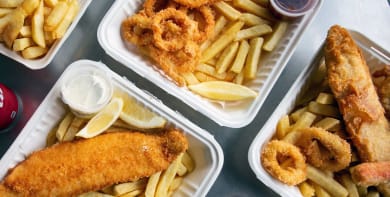 Reviews
205 reviews
Jason
"Great food, quick delivery"
21/11/2020
Jeff
"Very tasty as usual"
17/11/2020
Cherie
"It was delicious but we didnt receive the can of drink which was part of the meal deal"
14/11/2020
Stella
"Doner and chips- chip portion very small. Everything else was good"
11/11/2020
Menu
Fresh Chicken Fillet Burger
£3.50
Half Pounder Cheeseburger
£4.50
Special Burger with Donner Meat
£4.20
Quarter Pounder Beef Burger
£3.30
Quarter Pounder Cheeseburger
£3.50
Chips Small
Chips Served in tray for Delivery
£2.40
Chips Large
Chips Served in tray for Delivery
£3.30
Mixed Doner Meat & Chips
Chicken & Lamb
£7.00
Chicken Shish Kebab Large
£8.00
Chicken Shish Kebab Medium
£6.00
Chicken Doner Kebab Large
£6.50
Chicken Doner Kebab Medium
£5.50
Lamb Shish & Chicken Shish Kebab
£8.00
Doner & Chicken Shish Kebab
£8.00
Chicken Shish, Lamb Shish & Doner Meat
£9.50
Chicken Doner & Lamb Shish Kebab
£8.00
Haddock Fish
12oz fresh cook
£5.70
Portion Pork Belly Ribs (3)
£6.60
Ribs Meal
2 Pieces of ribs
Chips
Can of drink
£6.90
Kids Drink Fruit Shoot Orange 200ml
£0.90
Kids Drink Fruit Shoot Apple and Blackcurrant 200ml
£0.90
Oasis (500ml) Oasis Summer Fruit
£1.70
Oasis (500ml) Oasis Citrus
£1.70
Super Burger Meal
Beef burger
Chicken burger
Chips
(Comes in same bun)
Can of drink
£6.50
Victoria 1
Quarter pounder beef burger,
Chips
Can of drink
£5.50
Victoria 2
Quarter pounder chicken burger
Chips
Can of drink
£5.50
Victoria 3
6 Spicy wings
Chips
Can of drink
£5.50
Victoria 4
6 Pieces of chicken strips
Chips
Can of drink
£5.90
Victoria 5
2 x Jumbo sausages
2 x Fish cakes, peas & curry sauce
2 x Small chips
1.5L bottle of Pepsi
£15.50
Victoria 6
Quarter of chicken, chips & peas
£5.90
Victoria Special
Lamb shish
Chicken shish
Doner meat
2 x Pitta
Salad
Chips
Sauce
1.5L bottle of Pepsi
£16.90
Special Burger Meal
Quarter pounder burger with doner meat
Chips
Can of drink
£5.90
Fish For 2 Person
2 x Fish
2 x Chips
Peas
Curry sauce
1.5L bottle of Pepsi
£17.50
Family Special
Chicken doner
Lamb doner,
Lamb shish
Chicken shish
Fried mushrooms & peppers
4 Pitta
Side salad
Chips
1.5L bottle of Pepsi
£23.00
Full Meal
Fish, chips & a can of drink
£8.00
Chef's Special
Fish
Medium doner
Quarter pounder beef burger
Large chips
1.5L bottle of Pepsi
£19.50
Victoria 7
Small haddock fish
Large haddock fish
Chips
2 Cans of drink
£12.50
Victoria 8
Medium doner kebab
Chips
Can of drink
£7.90
Victoria 9
Mixed shish
Chips
Can of drink
£9.90
Victoria 10
Chicken fillet burger
Chips
Can of drink
£5.90
Victoria 11
Any pie & chips
Peas or curry sauce
£5.60
Victoria 12
Hawaiian burger with pineapple
Chips
Can of drink
£5.80
Party Order
2 x Medium doner
2 x Fish
4 x Chips
Peas
Curry sauce
1.5L bottle of Pepsi
£32.00
Contact Us
Find Us
62 Victoria Street, Newark-on-Trent, NG244UT